Sponsor
Posted By

Qokaine


Verification
LAST VERIFICATION
Working 3 months ago
by

Qokaine
Tags
Rating
New D2Revamped Bot Setup
Now with ability to easily detect mobs
| Submitted:
3 months ago
(01.27.2022)
Description
Constantly improving our botting experience we thank you for sticking by our side through this journey.
Instructions
Manual - D2Revamped Bot
1.0 – Introduction

D2Revamped is a hybrid bot. It uses packet injection and pixel.
The bot does not use image search* and due to this D2Revamped outperforms all other pixel bots. Our bot's performance will be aditionally increased by the integrated ZhiPei Dominate tool which sends packets and saves your time.
We always do our best to ensure safety. However, at this point we would like to emphasise that you use this bot always at your own risk.
* image search for stashing only
2.0 – Basic Settings
As abovementioned, the bot is pixel-oriented. Therefore, make sure that all programmes that have an influence on the pixels are deactivated, for example, Windows Dynamic Mode, HUDs, Night-shift, Night Mode etc. For Nvidia graphics cards please use the default settings in the NVIDIA control panel. The Windows scaling is 100%.
2.1 – Modification
Open the following path in Explorer:
C:\Program Files (x86)\Diablo II Resurrected
and copy/paste the folder ''mod'' into it.
2.1 – Recommended Ingame Settings
⦁ Video

⦁ BRIGHTNESS (GAMMA CALIBRATION):
⦁ Move the slider all the way to the right – see position 1. below.
⦁ Then click the left controller button where the blue X is five times so that the slider moves to the position 2.
Battle.net Lauchner Settings
⦁ Enable ''Additional command line arguments'' as in the picture below
⦁ Add: -mod Master -txt
⦁ Done

3.0 – Bot Settings & Control
⦁ Settings
⦁ The bot can be set with the most important configurations via the interface (see the picture below).
⦁ Advanced settings can be made in the settings.ini file.
⦁ Control
⦁ Once the bot has been started, it can be controlled with these buttons:
⦁ PAUSE-Key – For Pause
⦁ END-Key – To stop the bot
⦁ NOTE: The interface can only be closed with the END-Key if needed.

FastMode is for particularly strong characters.
NOTE: Currently Light Sorc and Hammadin are supported. More character builds and bosses will be added soon.

The bot uses only SUPER HEALING POTIONS.
3.1 – ZhiPei Dominate Tool
The ZhiPei Dominate Tool can be customised. The tool uses the following functions of ZhiPei:
⦁ Teleport
⦁ Chicken
⦁ Itempickit (with the exception of potions)
⦁ Taste 0 for Town Portals
The ZhiPei Dominate Tool must be saved here:
C:\ZhiPei Dominate Tool
4.0 – Bot Start Routine
⦁ IMPORTANT: Mind the order of the Bot Start Routine!
⦁ Open the programmes in this order:
⦁ Open Battle.net Launcher and start Diablo II: Resurrected
⦁ Right after starting Diablo open ZhiPei.exe within the loading video
⦁ Finally, open the file Launcher.exe
⦁ In the character selection select your character and press Start (see below)

Please read the setup guide when you download the latest version from gofile .io/d/IZ3dkT

We are glad to announce our latest release in our Diablo 2 Resurrected botting experience, our last bot provided an okay base but holding over 30k lines of code we knew we could do better. With our new bot holding less than 4k lines of codes at the most, it utilizes safe modifications to change colors of enemies so our bot can easily detect and engage with bosses and monsters. So you may be seeing purple your vision is not wrong! Not only has combat been improved but we are including support for each class with a specific combat routine that will be the most effective measure to have instead of the bot guessing where the enemy is and just assuming it's dead before moving onto the next bot.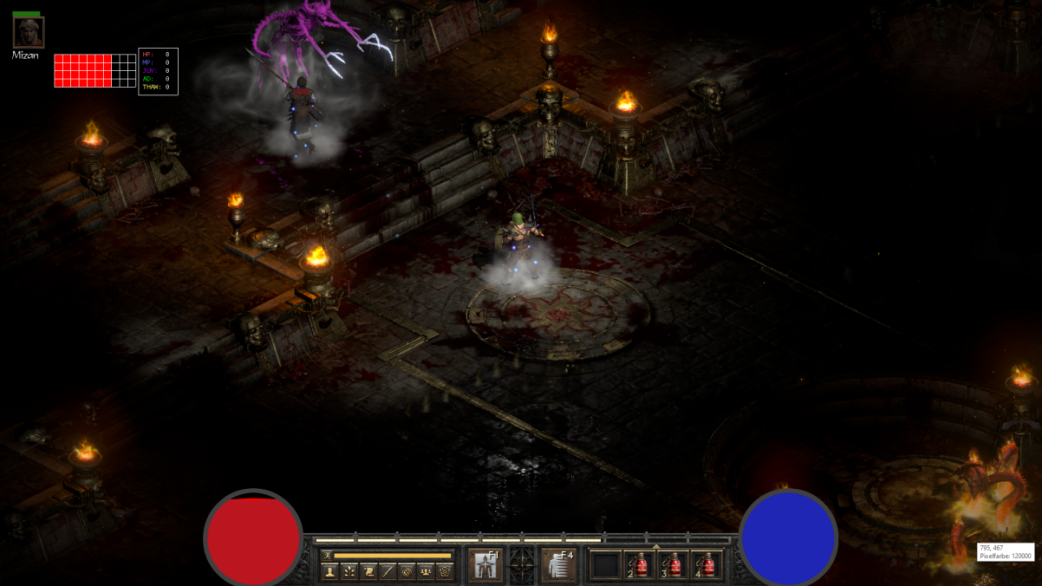 No need to worry about graphics configuration any more as the bot will automatically have it set.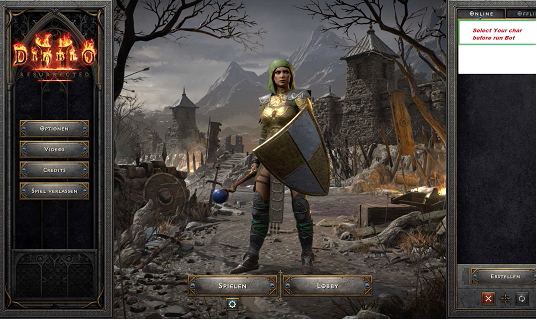 Select your character at character selection screen, make sure you launched zhi pei properly during cinematic screen if you are going to use the zhipei integration.
follow these simple setup steps correctly and you will find a very error free botting experience!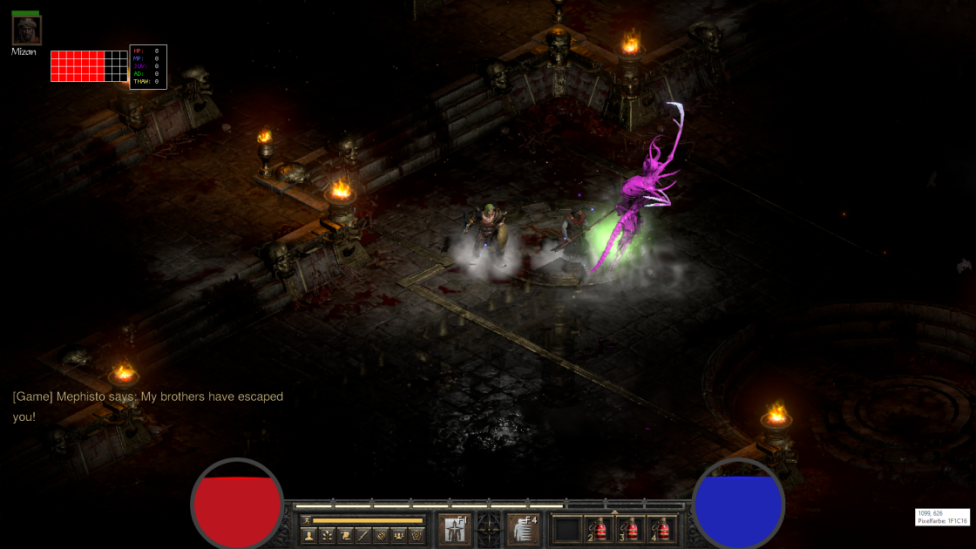 When the bot launches the game it will add the color mod to your d2r folder, if you notice when you launch it manually you will not see the color mod addon and for that to be enabled manually you will have to go in bnet launcher go ahead and click game settings and put in additional command line arguments: -mod Master -txt


if yes then we now set the ingame settings
Resolution: 1920*1080
New D2Revamped Bot Setup Video
New D2Revamped Bot Setup Screenshots
Does this still work?