Sponsor
Posted By

Qokaine


Verification
LAST VERIFICATION
Working 20 days ago
by

raslley
Tags
Rating
Diablo 2 Resurrected Breakpoint Stat Hack working Online
It's amazing what the D2RAssistant Dominate tool is able to do
| Submitted:
1 year ago
(12.16.2021) | Thanks:
1
Description
Now introducing breakpoint stat editor, you can edit certain stats that are not server side checks. There are certain stats we cannot edit due to server side checks such as faster run walk. Check out the video for it in action.
Instructions
The Breakpoint editor is quite the surprise of features to be included in our hack, now there is some limitations on stat editing of course when online due to server checks.


This allows only the editing of certain stats that we can manipulate without getting banned, for example Faster Run Walk cannot be manipulated as that is server side stat check. But for future feature, we could possibly modify our mercenary FRW & it's IAS if no server check.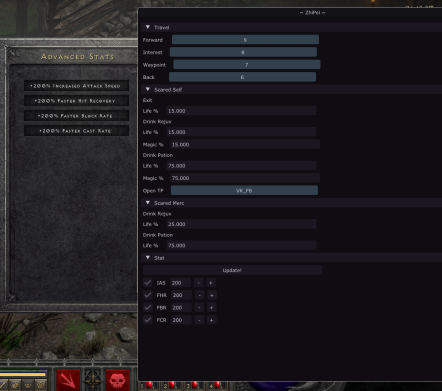 To prevent bugs we also prevent user from going above 200% on any breakpoint, here is an example of this being an overpowered hack to have usage of: Your paladin has 75% FCR, you can use hack even without the gear to max out your FCR to 125% of course anything past that takes no effect. Hence why they are called breakpoint.


Another great feature is not having to stack 200% FHR charms and can now just edit your FHR to be maximum out with the diablo 2 resurrected hack, and yes this is working online and will not get you banned. We have many security checks in place that will crash the game before you do anything that would get yourself banned, the tool is very safe to use.
Diablo 2 Resurrected Breakpoint Stat Hack working Online Video
Diablo 2 Resurrected Breakpoint Stat Hack working Online Screenshots
Does this still work?