Sponsor
Posted By

AfterBurn


Verification
LAST VERIFICATION
Working 4 years ago
by

kyo000
Rating
Website
[Release} AfterBurn 2.0 PWI Grind Bot Version 1.0
Submitted:
9 years ago
(12.10.2010) | Thanks:
15
| Views:
27,706
Description
Re-Released 06/15/2011 We have fixed the Perfect World International Bot, we had to make some modifications to the bot with the recent changes on PWI International. Everything is working again and you can re download the 5 day trial even if you have used the trial before it will now work for you again so a extra free 5 days on us.
Instructions
Update: AfterBurn 2.0 Release PWI Bot Version 1.6 new release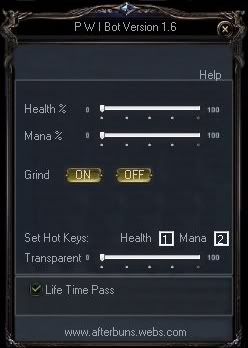 Features
It does not modify, write, or read from Clients process memory. Automatically detects your client window resolution, not your screen resolution making it universal for all users. Graphical Interface re design looks like part of the game
Re Coded now runs smoother with less CPU usage.
Auto Pill ( detects Health and Mana levels and uses potions at the % u set them to be used. Auto Grind ( auto attacks random using regular attack and 2 special attacks, auto uses 2 passive skills at random times, auto selects monster, automatically stops attacking when the monster is dead, auto loots items dropped, and now will Meditate at random times to reduce pot usage)
Version 16.
The Design is to be 100% Bot and will in no way access the clients process memory, trying to mimic realistic movement drastically lowering the chance of being caught.
Like I stated there will be more features added in the near future and I will re-release a new trial as I add updates.
For a direct download from my site please visit
If you like please press Thanks.
Does this still work?